Coates Custom Homes
The Coates family has been designing and building custom homes throughout Southwest Ohio since 1968. As a full service custom builder the Coates are involved during every phase of the design and construction process beginning with lot selection and ending with all of the personal finishing touches.
The Coates name is synonymous with unsurpassed quality and craftsmanship, delivering uniquely exquisite, energy efficient, and completely custom homes designed with both your lifestyle and budget in mind.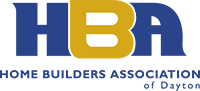 We're proud members of the Home Builders Association of Dayton.  Follow us on Facebook.
Read more about us.